Fresh Amstrad CPC, PCW, Notepad NC100 NC150 NC200 and PDA600 news
Rick Dangerous is back on Amstrad CPC+ with more features and updated graphics
-
Rick Dangerous 128+ is a new version enhanced by Fano, Macdeath and BDC Iron of Rick Dangerous (available 20 years ago in 1989). Some of the new features of this version is the use of the 4096 colors of the CPC+, new levels coming from the 16bit versions, DMA music, the use of the 2nd shoot button of the CPC+ joystick to jump...
Below a screenshot of the original version and of the 128+ version :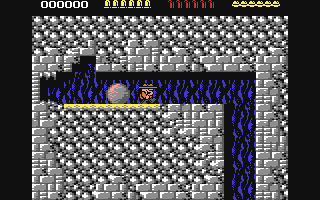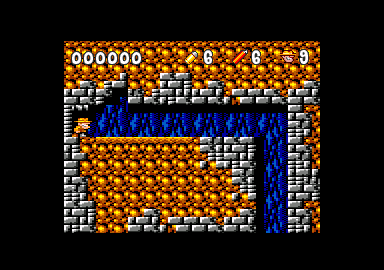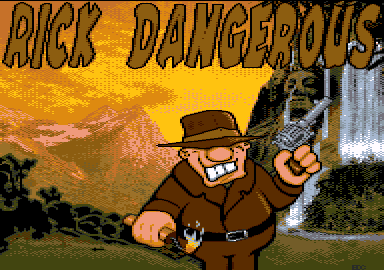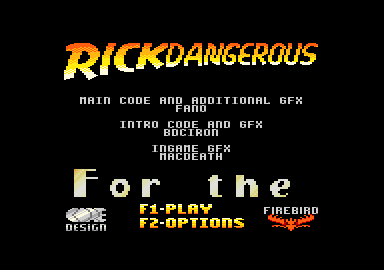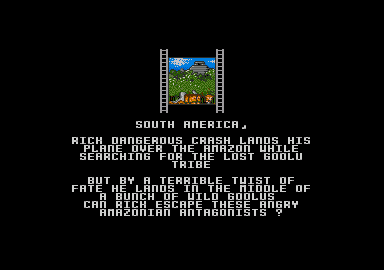 I wish you all a happy christmas 2009 with nice gifts. There were less news these past weeks, because I am working behind the stage on new features, which I hope will be ready soon.
a batch of 25 Symbiface II is available
-
This weekend Dr.Zed brought Prodatron a batch of the SYMBiFACE II card (25 pieces) including cables with edge connectors. So you can order it again! At the moment Prodatron can't ship centronics connector cables, but he hopes to have them at the end of december from Dr.Zed. You can mail him at jmika [a t] prodatron [d o t] net.
Dragon's Lair on Iphone in the future
-
Dragon's Lair will be available in the future on Iphone, no date released though.
CPCemu v1.7 for win32/linux by Marco Vieth
-
CPCemu for dos by Marco Vieth was the first Amstrad CPC emulator I used. It exists also for win32 and linux, and the last version now supports other keyboard than the qwerty one.
WXCOMMANDER, a file manager for windows which read/write .DSK files
-
WXCOMMANDER (see CPC Loader) is a general purpose two-panel file manager for windows, but it can read/write .DSK files, others features :
Create zip and iso files
Upload files to the Internet using FTP
Fast file handling using the keyboard
Built-in viewers handling many file formats
Advanced built-in text editor
Create animated gifs
Create shortcut menus for your USB flash drives
Portable - a single exe file with no particular dependencies
Convert mdb files to csv or dbf
No installation required (self-extracting zip exe provided for convenience)
No uninstallation required (just delete the folder)
Free for non-professional home use
CPCGamesCD updated by MiguelSky (October 2009)
-
CPCGamesCD is a live CD by MiguelSky with emulators and the NVG Amstrad game collection. It has been updated :
Includes frontend, new CPC Loader 2.5 by Troels K.
Includes NVG games update 10/18/2009
Includes Snap-Pack by MiguelSky (3589 images)
Added new version 6.2 of JavaCPC emulator
Includes Linux version of CPCLoader 2.5 and emus update
Includes Maps folder of NVG and support for that
Includes Links to T.A.C.G.R.
Orion Prime available today as a download
-
GrafX v2.1 (bitmap editor)
-
An update of GrafX (v2.1) is available.
It's a bitmap paint program that allows to draw in more than 60 video resolutions (from 320x200, including most of the standard Amiga resolutions, provided your videocard knows how to handle them). It was written originally for DOS, but has been modified to use SDL and modern operating systems. Its layout is not very different from Deluxe Paint or Brilliance.
Lords of Midnight and Doomdark's revenge on Iphone maybe
-
Chris Wild is talking with Mike Singleton about a LoM and DDR port to Iphone, that would be nice.
Forest, an Amstrad CPC picture by Marlene Johansen (LuBlu Entertainment)
-
Marlene Johansen, one of the 2 members of LuBlu Entertainment (authors of the Amstrad CPC game Sort'Em), has drawn a nice picture on Amstrad CPC (mode 1, 4 colors) that you can see below, you will also find 2 others Amstrad CPC pictures on her web site.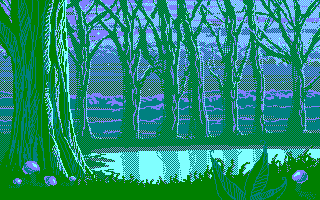 Remake of Sapiens by the original authors : Didier and Olivier Guillion
-
It has been ages since I last went on the web site of the 2 Guillion brothers, the authors of Sapiens. There is a newer (though not recent) version of their windows remake of this nice game, one of the few I finished on my Amstrad CPC. You should download this remake, for the music if only, but if you want to play it, dont forget the authors, it's a shareware for 10 € only.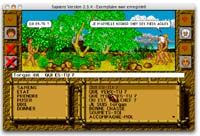 remake of Lords of midnight and Doomdark's revenge on PC
-
LOMJAR is a java implementation of The Lords of Midnight and Doomdark's Revenge originally written by Mike Singleton. Other remakes can be downloaded :
the disk drive is dead, hail to the disk drive
-
Since the announce of the last french CPC meeting in May 209 organized by Eliot, I learned that he uses a disk drive replacement based on SD cards. But there are some others too, but one isnt finished atm, and for the 2 others, the most difficult part is to get one, unless you are good at making your own :
HxC Floppy Emulator, there is an USB version (CPC is connected to a PC) and a standalone sdcard version(which supports writing). The author may create a batch of these sdcards cards soon, more informations when I have some,
In fact, there is a 4th one, made by RAM7 based on USB key, that he showed to the last meeting, but I have no more informations about it.